As architects committed to crafting innovative and sustainable retirement living solutions, we were recently proud sponsors of the 2023 Retirement Village Association Conference held in Fiji. This gathering brought together industry experts and thought leaders to exchange insights and explore cutting-edge innovations in the growing retirement sector.
Our team would like to thank our architects, Grant Neill, Lyn Maltby, Claudia Weber, and Erxin Shang, for representing us and sharing their key insights below.
Above: Render for The Botanic Retirement Village Poolhouse in Silverdale currently under construction
Embracing Cultural Diversity:
As New Zealand experiences demographic shifts, the retirement sector faces the exciting challenge of accommodating a wide array of cultural preferences and needs. This diversity is not merely a challenge but a unique opportunity for businesses in the retirement sector to redefine their approach to design and service.
From cuisine to social activities, the insights gained emphasised the importance of creating inclusive spaces that honor different cultural backgrounds. This means crafting environments that are not only architecturally versatile but also culturally sensitive, fostering a sense of belonging and community for retirees from all walks of life.
A New Era for the Baby Boomer Generation:
The Baby Boomer Generation seeks modern and forward-thinking retirement communities that align with their active lifestyles. Architects and designers are now challenged to create spaces that reflect this mindset shift. Our team found inspiration in discussions about incorporating contemporary aesthetics, flexible living arrangements, and innovative amenities that cater to their desire for modernity and adaptability. For example, research showed they had a preference for a butler's pantry over a study nook, a balcony over conservatory, and a wellness studio instead of a gym.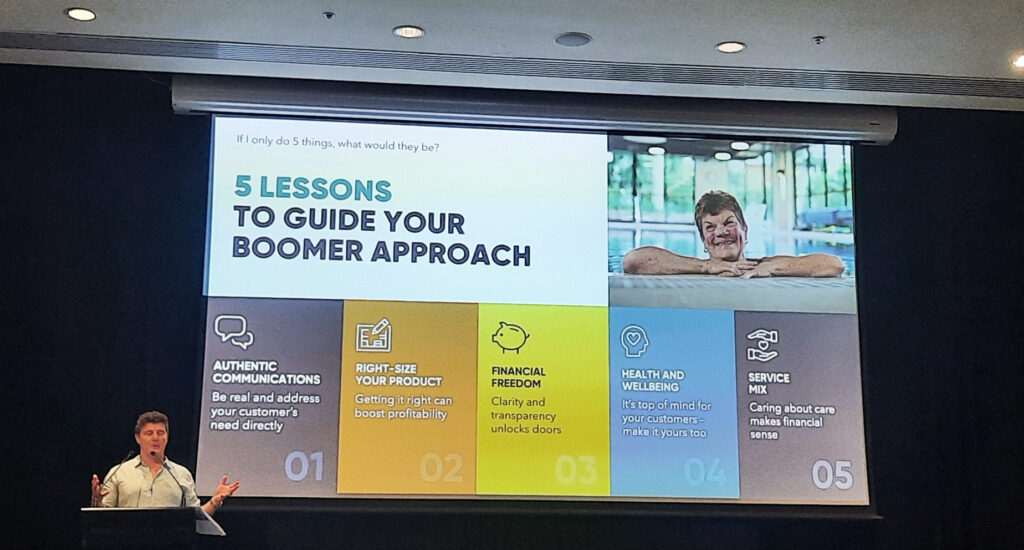 Above: David Lo Russo presents his market research of the Boomer Generation
AI Technology for Safer Living:
The integration of Artificial Intelligence (AI) technology into retirement living is projected to play a pivotal role in creating safer and more secure living environments for retirees. AI-driven solutions encompass a range of applications, from fall detection and health monitoring to smart home automation that adapts to individual needs. The potential to provide 24/7 monitoring, real-time assistance, and predictive health analytics holds the promise of empowering seniors to maintain their independence while receiving timely support.
Regenerative Design Projects:
Integrating regenerative design is now essential, especially as we aim for a net-zero carbon future. Measuring community carbon footprints is becoming mandatory to reduce environmental impact. Encouragingly, banks are providing targeted funding for projects embracing regenerative design, showcasing a joint dedication to crafting retirement villages that prioritize both seniors' well-being and a sustainable legacy.
–
If you are interested in discussing your next project or development, please get in touch.  email  info@penzl.co.nz. Working nationwide, we're dedicated to offering better solutions, for better living.