The Uptown Business Association, in collaboration with The Urban Advisory and tertiary institutions such as the University of Auckland, Unitec, and AUT, are spearheading an innovative initiative to reimagine the Uptown neighborhood. The Uptown Futures Festival serves as a platform for over 550 students to showcase their vision and ideas for the future development of the area. As proud sponsors of this transformative event, Pacific Environments are actively involved in providing feedback and guidance to these aspiring architects. 
From 5th to 12th July, Uptown will come alive with student showcases and free public events, stimulating conversations and encouraging community participation. This festival serves as a catalyst for community input, fostering collaboration and engagement between students, professionals, and the wider public. By harnessing the collective creativity and knowledge of various stakeholders, the aim is to shape a neighborhood that meets the diverse needs and aspirations of its residents.
With the impending arrival of the CRL Maungawhau rail station, Uptown is on the brink of significant change. The increased footfall and shifts in land use that this development will bring create an opportune moment to reevaluate the neighborhood's potential. As architects and urban planners, we recognise the importance of this transformation and are committed to playing an active role in envisioning a sustainable and vibrant future for Uptown.
The Uptown Futures Festival goes beyond the traditional exhibition format by actively engaging the community in two key sessions.  
Uptown Directions: A Celebration of Student Work
The first community session, named Uptown Directions, will take place on Saturday 8th July. This event celebrates the contributions of over 500 students who have poured their creativity and vision into reimagining Uptown. Attendees will have the opportunity to view captivating designs, engage in thought-provoking panel discussions, and enjoy music and community spirit. The beautiful setting of Kāhui St Davids in Uptown will provide the perfect backdrop for this inspiring gathering.
Uptown Reflections: Insights from Industry Leaders 
Wrapping up the festival, the second session, Uptown Reflections, will take place on Wednesday 12th July at Academy Ex on Khyber Pass Road. This session aims to provide a deeper understanding of the industry's vision for Uptown. Industry leaders with a strong connection to the neighborhood will share their insights and shed light on potential pathways for its future development. This session promises to offer valuable perspectives and ignite further dialogue among attendees.
To immerse yourself in the fresh ideas and visionary concepts of the next generation of industry leaders, we invite you to join us at the Uptown Futures Festival. This collaborative event promises to be an inspiring showcase of creativity, innovation, and community engagement. Together, let's shape the future of Uptown and create a neighborhood that thrives for generations to come.
Click here to register for your free tickets and more event info.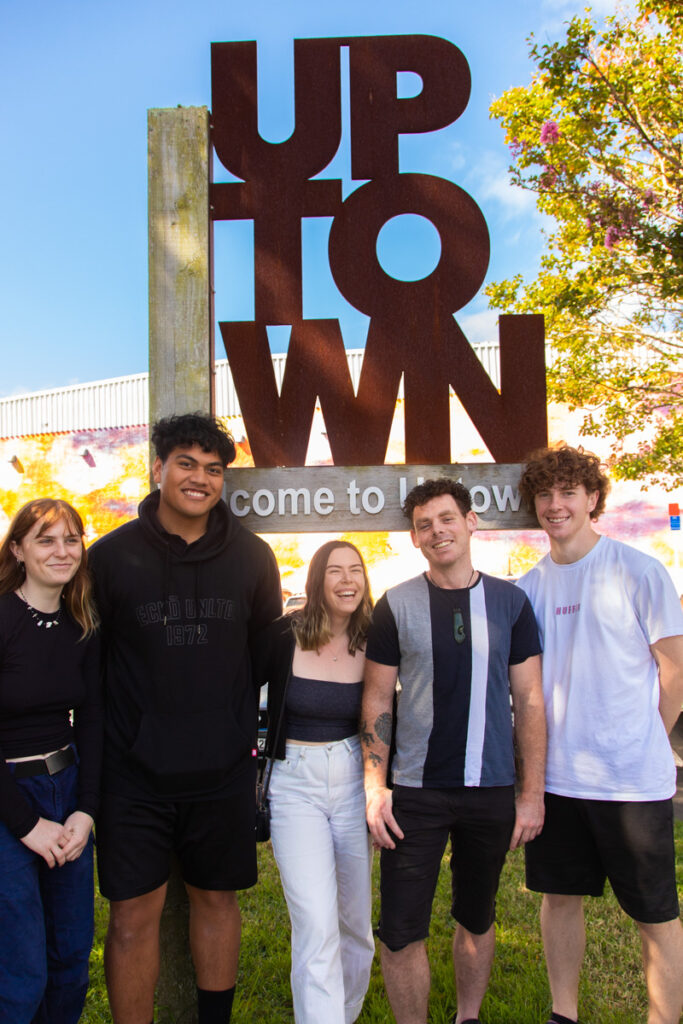 Photo by Blink Ltd featuring students studying Uptown.
Left to right: Ashley Kroon, Filipe Kailahi, Brittany Familton, Joshua Latham, & Adam Davies.